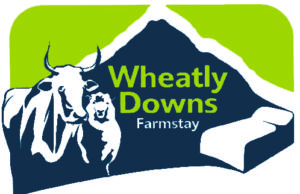 Wheatly Downs Farmstay & Backpackers Lodge
Our peaceful lodge set amongst extensive farm gardens full of birdlife. Wake to the Tui and Bellbird call.
We have double twin single and multi share rooms . Also a separate secluded chalet with it own bathroom and kitchen. All rooms include a grand wooden deck with stunning views of our mountain ' Taranaki '.
Hiking is encouraged over the farm in the valley's and many lakes. Cattle and sheep graze the fields with majestic peacocks looking on.
Prices :
$38 – $42  for a multi share ( shared facilities )
$85 – $95  for a double or twin ( shared facilities )
$135 for self contained chalet ( own bathroom and kitchen )
FOR ALL INQUIRIES PHONE 06 2786523  or email wheatly@taranaki-bakpak.co.nz